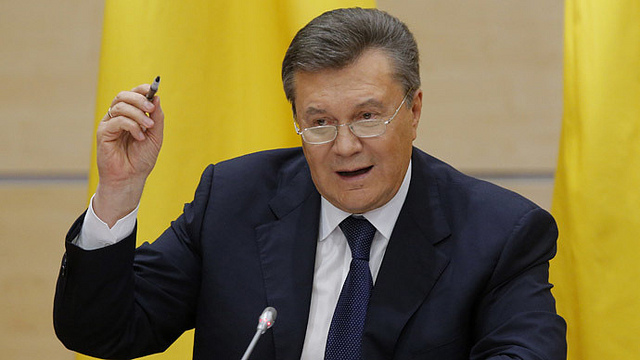 On Thursday the parliament of the Ukraine voted "yes" to a law, which is going to allow the Ukrainian government to seize what is known as the offshore assets of former president Viktor Yanukovich without requiring any court orders. 
During the 2013-14 Maidan Yanukovich was forced to flee to Russia. Crimea then became a part of Russia in March 2014 and an uprising of eastern Ukraine put a start to a civil war in Ukraine. 
Ever since forcing Yanukovich to flee, more and more Ukrainian have become tired and frustrated with the new government that is not doing any attempts to fight the corruption and is making underground business flourish even more than before, during the reign of Yanukovich. 
The Prime Minister of Ukraine – Arseny Yatseniuk and his party claim that the law is going to permit seizing nearly 50 billion hryvnia (which equals $1.9 billion) worth of government bonds. These money will then be used for social needs as well as defense industry. 
The lawmaker Serhiy Pashinsky told the parliament that the law is essential for the country, army and pensioners. The party of the Prime Minister claims that the bonds were acquired using the funds that the former president and his associates plundered from the state. The Prime Minister also claims that Yanukovoch is holding the bonds via 42 offshore companies that are located in Britain, Panama, Belize, Cyprus as well as the Seychelles. 
Yatseniuk also claims that restoring justice always was and is one of the key demands of Maidan as well as Ukrainian people as a whole. He mentions that the money are equivalent to the US aid ($1.5 billion). 
However, the new law was criticised by other political parties. They believe that this legislation is violating the international law and Yanukovich could challenge the decision in court. This will mean that Ukraine may be forced to pay back all the money along with a large fine. In addition, the lawmakers consider that this law may be used for political vendetta. 
The lawmaker Mustafa Navyem stated that the law is not transparent and very risky. The law in fact is giving Yanukovch as well as his associates more options to use in the future. 
The Prime Minister's party literally forced the law into the parliament and its agenda. They were disrupting the proceedings for two days saying that they will not allow the parliament to work unless the law is going to be discussed. 
The law was approved during the first reading, but it will need to be voted on once more and only then signed by the President so as to come into force. Being certain of a positive result, Yatseniuk included the expected windfall in the 2016 budget. 
Yanukovich's family representative did not provide an immediate response to the request of commenting the matter.